Israel is one of the most dynamic countries of the Middle East, located along the Mediterranean Sea. This holy land has attracted many visitors since biblical times for its historical and religious sites, sandy beaches, eco and adventure tourism, and year-round travel weather. Right from the Dead Sea to the beautiful beaches of Eilat on the Red Sea, and Mediterranean cities of Tel Aviv and Haifa, Israel never fails to excite and surprise its guests. The world-famous Old City in Jerusalem and churches of Bethlehem are a must-see for every visitor coming to Israel.
For all the food lovers, Israel offers a perfect mix of Middle Eastern and Mediterranean cuisines giving you the taste of authentic and delicious hummus, falafel, shakshouka, msabbha and couscous alongside the traditional freshly baked bagels and Challah bread.
Travel to Israel   
I've always wanted to travel to the Middle East and Israel. And here are my experiences about travel to Israel.
IS ISRAEL SAFE?
If you live in the United States, then any mention of travel to the Middle East (regardless of the specific country), is generally met with at least some level of concern. However, after some research, and my own personal experience, I feel confident saying that travel to Israel should be considered relatively safe.
Does that mean that nothing bad could happen? Absolutely not. Bad things happen everywhere. And yes, there is a remote threat of terrorism in Israel - just as there is throughout the western world. Keep in mind that Israel has one of the most sophisticated military intelligence services in the world. There is relatively prominent military and police presence almost everywhere you go. And security at the airports and many major tourist destinations (like the Old City in Jerusalem) were some of the most stringent I've ever encountered. In fact, I was interrogated twice! I realize that might all sound intimidating, but it was actually very comforting. In general, I felt safer traveling around Israel than almost anywhere else in the world that I've been. 
At the time of writing, the U.S. Department of State travel advisory ranked Israel as a "2," recommending visitors use increased caution due to terrorism. A "2" is actually a relatively low danger ranking. To put things in perspective, other countries generally warn their citizens to use caution when planning travel to the United States due to similar concerns.
SHOULD YOU RENT A CAR IN ISRAEL? 
The best way to travel in Israel depends a little on what you are interested in doing while you are there. If you are planning on staying primarily in Tel Aviv and Jerusalem, then you might be able to get away with public transportation, rideshare options, and just walking. We spent two days in Jerusalem, and we found that it was relatively easy to walk anywhere we wanted. Moreover, the traffic was so horrendous most of the time, that we were often walking faster than traffic was moving. 
BUT…. if you want to cover a lot of ground, and visit more than just the major sites, then the best way to travel around Israel is definitely by renting a car. Driving around Israel was simple, and honestly didn't feel any different than driving around the United States. We relied on Google Maps to get us around, and for the most part that worked relatively well (but make sure to download offline maps). Parking was pretty easy everywhere we went outside the cities, and I wouldn't trade the flexibility of having our own car for anything. If you are interested in photography, then you know that being able to show up to locations at sunrise, stay as long as you need, and leave after sunset is essential. If you're on guided tours, that simply won't be an option.
DO YOU NEED AN INTERNATIONAL DRIVERS PERMIT? 
If your primary driver's license is from an English speaking country, then you're good to go - that's the only document you will need to rent a car in Israel. If you're from a non-English speaking country, you'll need to secure an International Drivers Permit before your arrival in Israel. Make sure to also bring your driver's license from home. You will need both! 
WHAT'S THE DEAL WITH CAR RENTAL INSURANCE IN ISRAEL? 
One expense that a lot of people don't anticipate when traveling to Israel is car insurance. Israel requires that anyone renting a car in the country carry three, yes THREE, different types of coverage: theft protection (T.P.), collision damage waiver (CDW), and 3rd party liability (3PLC). 
Luckily, some travel-oriented credit cards like the Chase Sapphire Reserve card that I carry will cover T.P. and CDW insurance. However, not all credit cards offer rental car coverage in Israel, so make sure to contact your credit provider before you leave for your trip. While you're at it, have them send you a letter of coverage. You will need to present the letter when you pick up your car. 
While some credit cards cover CDW and T.P. in Israel, you'll still be required to purchase 3PLC. There's no getting around that! 3PLC covers tire blowout, vandalism, tire, and rim damage that are not caused by theft or vehicle collision. Expect to pay around $15-20USD a day for 3PLC. 
HOW TO GET GAS IN ISRAEL
Okay, so you would think this would be a relatively low cognition, intuitive activity, but we had a hell of a time filling up our gas. Gas stations were easy to find. But it's surprisingly hard to pump gas when you don't read Hebrew. Many of the pumps require that you enter either a passport number or even your social security number before filling up. In the end, we had to ask for assistance every time we needed gas - and while people weren't overly friendly about it, they did help. As it turns out, you can actually put any sequence of random numbers in, and that will do the trick. So don't worry about sharing any sensitive information! 
CAN YOU TRAVEL TO OTHER COUNTRIES IN YOUR RENTAL CAR? 
Taking your rental car into any bordering country is a hard NO. That also includes the West Bank. There are many political and safety reasons for this rule. Needless to say, they are far too complicated to tackle in this travel blog.  But from a liability standpoint, your car insurance will be voided the minute you leave Israel, so just don't do it. 
WHAT TO WEAR IN ISRAEL
I've never felt like I needed to research what type of clothes to pack for a trip before. But considering this was my first trip to the Middle East I thought it might be a little different, and that maybe I should pack more conservative clothing than I usually would. I was planning on being in a lot of photographs, so I wanted to strike a good balance between fashionable and culturally sensitive. As I researched what to pack, site after site insisted that women's fusion in Israel was the same as in any western country - suggesting that I didn't need to worry about it. And for the most part, that was entirely true. EXCEPT IN JERUSALEM. 
As we traveled around Israel, I saw women wearing everything from cut-off jean shorts, to tank-tops, and itty bitty bikinis. But as soon as we crossed into Jerusalem, I wished that I had packed at least one much more conservative outfit. Of course, we did accidentally enter the city by driving straight through an Orthodox Jewish neighborhood in the middle of Shabbat. . . sooo that was a somewhat awkward introduction. In the end I had a long sleeve shirt and a long skirt, so I made it work.
Now I know, that there are pretty strict attire rules (especially for women) that you should follow if you are planning on visiting the Old City of Jerusalem. As a general rule, women should wear dresses or skirts (NOT PANTS), that cover the collar bones, knees, and elbows. But having been there, I would say that even outside the Old City, I felt much more comfortable erring on the side of modesty. 
10 BEAUTIFUL PLACES TO VISIT IN ISRAEL 
Okay, now that we have gotten through all the logistics, let's get to the good stuff! Given how relatively small the country is, I was shocked by the diversity of landscapes. We explored slot canyons similar to the ones found in the American Southwest, drove by vineyards that resembled those in Northern California, and wandered through cities with unrivaled historical clout. 
1. THE DEAD SEA
You know when you go somewhere, and it's almost uncanny how much it resembles somewhere else that you've been? Well, the Dead Sea is not that place! 
First off, fun little fact - The Dead Sea is not actually a sea. It's a lake! It's also the lowest place on earth (well at least dry earth) with its banks up to 400m below sea level at points. It's famous for its extremely saline water and mineral-rich mud, both of which make it a popular health and wellness resort destination. 
I'd like to preface this next part by saying that I totally think The Dead Sea deserves its spot on your bucket list. But I also feel a responsibility to manage expectations here, because The Dead Sea was not precisely what I envisioned it would be. First, the landscape is STARK. Second, the beaches are nothing to write home about. Third, because The Dead Sea is so salty, there are a lot of things about it that are actually pretty uncomfortable (painful). Getting the water in your eyes, or any cuts will STING. In fact, just being in the water for an extended period will start to sting. Luckily none of that matters as long as you move slowly, wear water shoes, and keep your head above water at all times!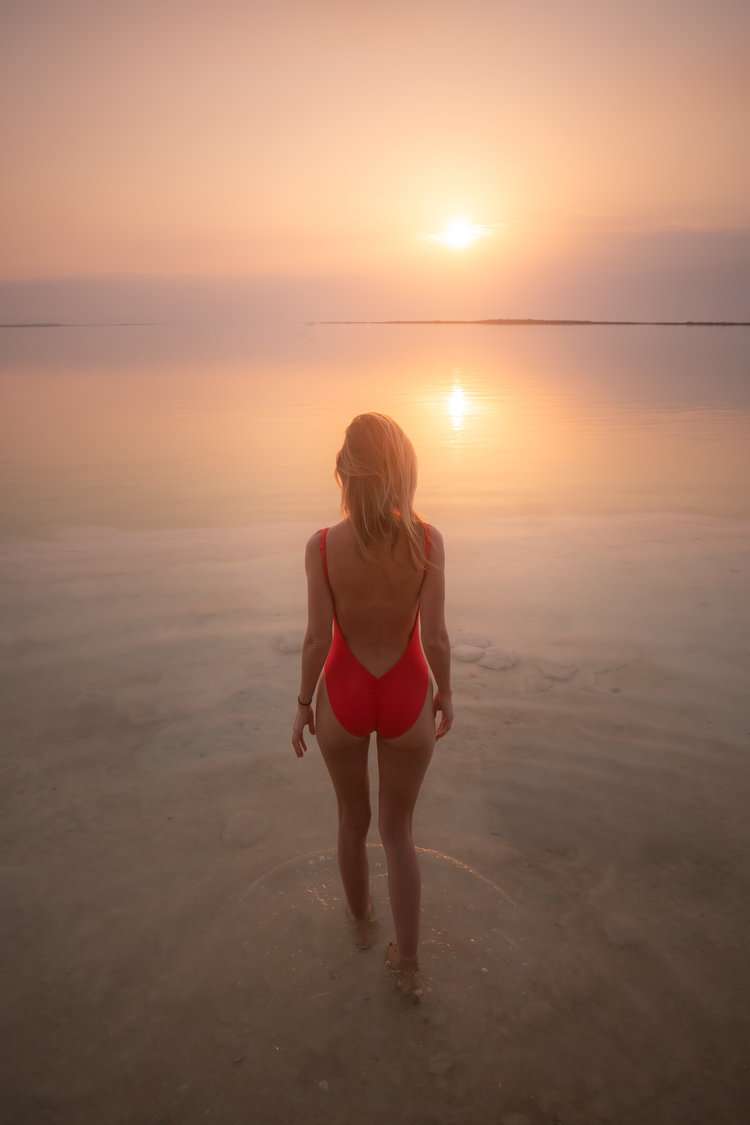 Logistics: Our main reason for visiting the Dead Sea in Israel was to photograph the Dead Sea Tree. For that reason, we chose Ein Bokek as our base. There's not much to Ein Bokek, just a bunch of high-rise hotels, a McDonalds, and a mall. Nonetheless, it had everything we needed (including the Dead Sea Tree)! You can enter the Dead Sea from pretty much any point in town (it all pretty much looks the same), to take the quintessential floating in the Dead Sea photos
2. THE DEAD SEA TREE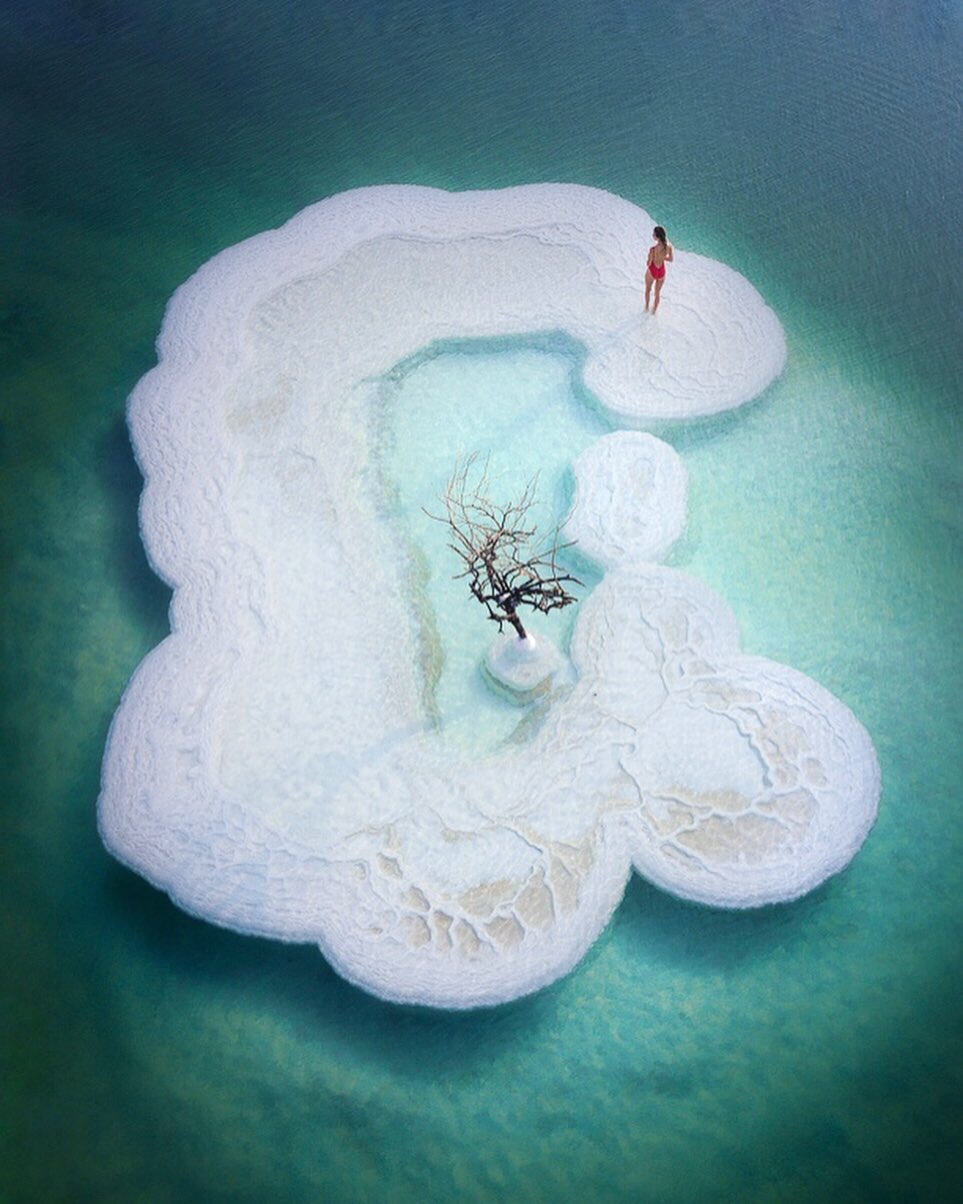 As I mentioned, one of our primary reasons for heading to the Dead Sea was to scout and hopefully photograph the Dead Sea Tree. Surprisingly it really wasn't that hard to find, and Quin actually spotted it from the highway as we drove into town. 
So does the Dead Sea Tree prove that the Dead Sea can actually sustain life after all? Not exactly. As some of you might have guessed, the tree is not the miracle of life it might at first appear to be. It was actually planted out on the salt island by a local, who aptly named the installation 'Dead Tree in the Sea of Life.' Apparently, he still paddles out daily to care for it. And that my friends, is the mystery behind the Dead Sea Tree. 
Logistics: The Dead Sea Tree is located about 100 yards (total guess) off the shore, from the public beach located just to the right of Herods Dead Sea Hotel in Ein Bokek. Last time I checked, it was actually labeled on Google Maps as "Dead Tree Salt Island." The easiest way to get to the Dead Sea Tree is to park at the Segregated Beach, then walk out as far as possible on the pier/boardwalk. Once you reach the end of the pier, it's time to swim! While floating in the dead sea is easy peasy, swimming is more deceptively tricky. The most efficient way to cover ground was to lay on my back and make big careful strokes with my arms (because again, splashing is a big no-no). I would say it took between 15-20 minutes to get to the island. There are showers on the beach, which is nice after spending that much time in the water!
To keep our camera gear safe in the water, we used the same waterproof backpack that used while Photographing Lake Tahoe. Except we wore the pack on our fronts. We also took a clean, dry shirt out to the island with us for our hands and eyes (just in case). For more information about the photography gear we use to capture images during our travels check out my photography gear guide.
3. RED CANYON, EILAT
No, it's not a slot canyon in Utah! But it's just as pretty. The Red Canyon in the Eilat Mountains is one of Israel's most popular and easily accessible hiking areas. There are a few different trails through the area, all color-coded by difficulty and length. It was scorching hot when we were there, so we opted to take the most direct ("Green") trail, and we didn't feel like we missed much. All of the trails eventually take you through the slot canyon - which is the highlight of the area, and was our primary objective. 
Logistics: The Red Canyon is an easy 20-minute drive from the center of Eilat. There is a large parking area, with information about the trail, as well as a park employing who will provide you with a map, and answer any questions you have. The desert is HOT, so make sure to pack plenty of water with you, and get there early in the day if possible. Also, pay attention to the weather forecast, flash floods are a real danger in this area. 
4. WADI ARUGOT, EIN GEDI (HIDDEN FALLS)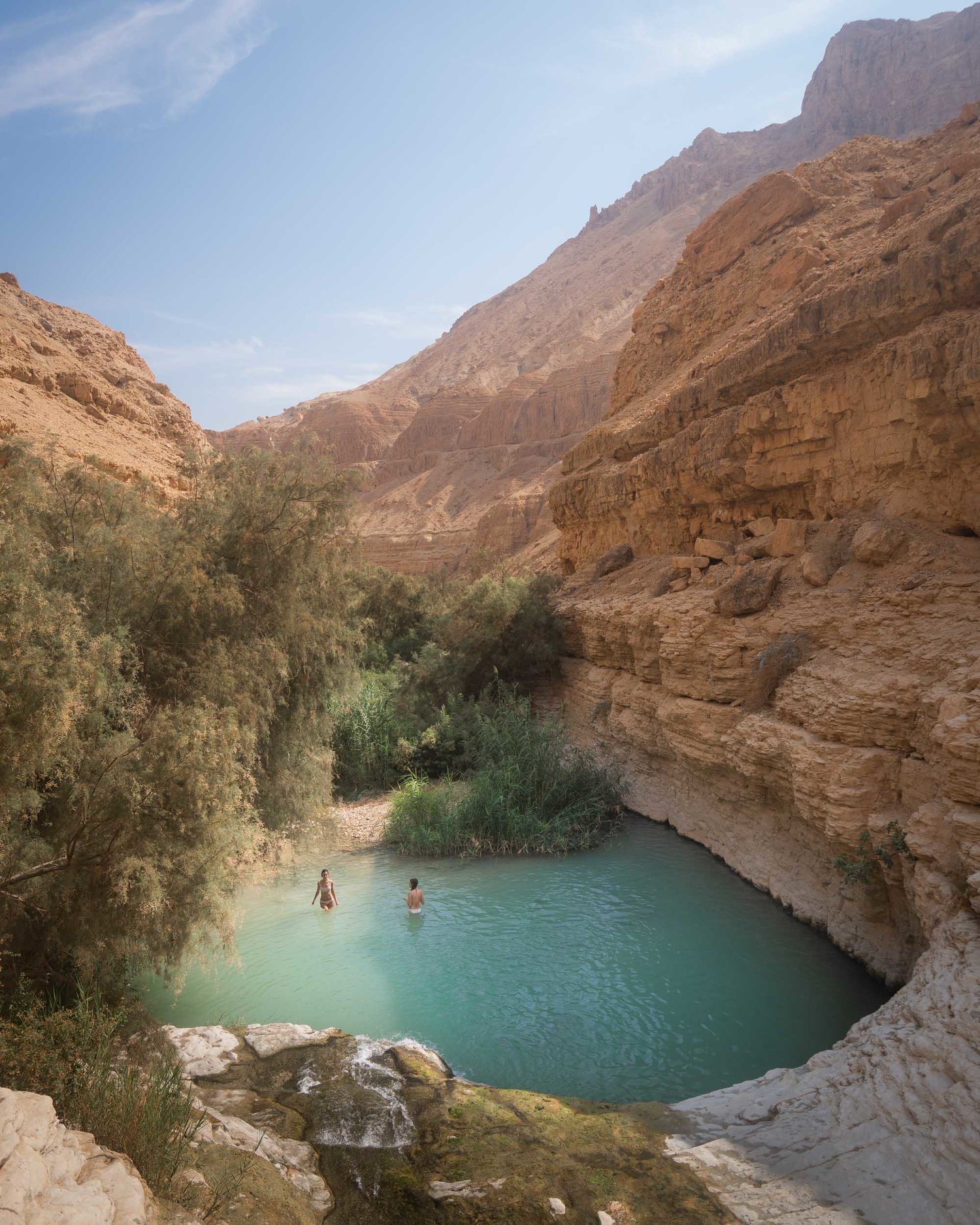 Wadi Arugot in the Ein Gedi Nature Reserve was my favorite hike in Israel. It was suggested to us as an excellent alternative to the much more popular (and crowded) Wadi David hike. And I'm sure glad we took the advice because the pools, streams, and waterfalls at Wadi Arugot were gorgeous.
The Wadi Arugot trail winds its way through a beautiful canyon that terminates at a lovely upper oasis. There is a blue (lower) trail and a red (upper) trail through the Canyon (although they only actually diverge at a couple spots). The blue trail is slightly longer and will take you to the Hidden Waterfall, and through a few streams, and pools before merging again with the red trail. The water obstacles are particularly appealing on hot days (which I'm pretty sure is every day). Whether you choose the blue or the red trail, make sure to continue past the waterfall to the Upper Pool. It's the cherry on top of this fantastic area. 
Logistics: Ein Gedi is a national park, so you will find facilities, maps, park rangers, and a fee station at the Wadi Arugot trailhead. Wadi Arugot has it's own parking lot, about five minutes past the main Ein Gedi parking at Wadi David. If you park at Wadi David, you will have to walk an additional 20 minutes. 
I would describe this trail as easy, although the oppressive heat does add an element of difficulty. Due to our schedule, we ended up doing the hike in the middle of the day, but ideally, you would get there early. Bring a swimsuit, sunscreen, a hat, and lots of water! 
5. OLD CITY JERUSALEM
Jerusalem is one of the oldest cities in the world. But perhaps more importantly, it's one of the most spiritually significant locations for three of the world's largest faith groups - Muslim, Christian, and Jewish. So it's pretty fair to say that there is nowhere else like it. 
There are a ton of great blog posts dedicated just to information about Jerusalem and the Old City, so I won't try and reproduce that here. In those blogs, you'll learn about all the important religious and historical sites to visit, such as the Church of the Holy Sepulchre, The Western Wall, and the Dome of Rock. But for me, the best part about the Old City was just allowing myself to wander aimlessly through the tangle of streets, markets, and cultures. And the thing is, by spending the day walking around, I ended up seeing all those significant landmarks without even really trying. 
Logistics: The Old City is divided into four quarters - Armenian, Christian, Jewish, and Muslim. Each has its own gated entrance, and in many cases, security, but it's not difficult to get from one to the other. While it's very possible to explore the Old City of Jerusalem on your own (that's what we did), it is the one location where I really wish we would have hired a guide. Not because I was worried about getting lost (I rather liked getting lost), but because I would have loved to learn more about all the various historical sites. I have no doubt that a guide would have made this infinitely interesting city even more rewarding. 
6. MOUNT OF OLIVES VIEWPOINT, JERUSALEM
Mount of Olives Viewpoint is probably one of the most famous views of Jerusalem if not all of Israel. It looks out over a large cemetery in the foreground and then to the Old City of Jerusalem, with the iconic gold Dome of Rock dominating the scene. It's a western facing view, so I'd highly suggest visiting just before sunset for the dreamiest lighting. Although I'm sure it's beautiful at sunrise as well. 
Logistics: The Mount of Olives viewpoint is across the street from the Seven Arches Hotel. You can drive and park right beside it, walk, or take a taxi. We did all three LOL. First, we tried to drive, but traffic was so bad that we didn't even make it out of the parking lot at our hotel. Then, we tried walking. And we almost made it! But the sun was dipping fast, so we flagged down a taxi, and the driver swiftly deposited us in front of the Seven Arches Hotel. Mount of Olives is not a secret! But it's an elevated viewpoint, so having other people there really doesn't impact the view at all. 
7. RASH HANIKRA CAVES
I'm not sure where to start with Rash Hanikra. Yes, the white cliffs, caves, and grottos were interesting geological features, and the turquoise Mediterranean water along the coast is beautiful. Plus, it was fascinating to see the border with Lebanon only a few meters away (maybe that's just me). But, HOLY CROWDS! In general, many of the destinations in Israel were far more crowded than I expected, but Rash Hanikra was next level. We are talking about Disney Land next level. Complete with two hour-long lines, a ride in a cable car, screaming kids everywhere, and even some costumed characters wandering around. Not exactly what we were expecting to find when we set out to visit this natural phenomenon. 
To be fair, we were there on a beautiful Saturday afternoon. Maybe it's different if you go early, on a weekday, in the rain. If you try it out, let me know! 
Logistics: Rosh Hanikra is located at the farthest point north on Israel's Mediterranean Coastline, right on the border with Lebanon. There is ample parking, although you might have to walk quite a ways to the main attraction. Once you park, you'll wait to ride a bus up to the top of the cable car. Then you will have to wait in another line to buy tickets for the cable car (which is apparently the steepest in the world). Tickets were about $13US per adult. After that, you will have to decide if you want to wait in an even longer line to take the cable car down into the caves, or just take the bus back to where you came from and walk into the caves. Once you actually get into the caves, it's all pretty self-explanatory! 
8. ACHZIV BEACH
The best part about visiting Rash Hanikra Caves was stumbling on Achiziv Beach afterward. Just south of Rash Hanikra, you will find the Achziv National Park. This coastal park stretches south for miles along the Mediterranean, and the Achziv Beach is considered one of the best in Israel outside of Tel Aviv. On Achziv Beach, you'll find a surprising number of amenities, including lifeguards, a café, yurts, and restrooms with showers. It is also possible to stay in the nearby national park campground. 
9. BANIAS WATERFALL, THE GOLAN HEIGHTS
Although the loop trail to Banias Waterfall is short, it's surprisingly diverse. It starts out on a dry, hot path, it quickly drops down into a cool, lush forest, and eventually takes you to a deck overlooking the picturesque Banias Waterfall. The waterfall and resulting stream shimmer with stunning blue water that ultimately winds its way to the Jordan River. 
Logistics: Parking at the trailhead is easy, but you will be required to pay an entrance fee for the Banias Nature Reserve (around $8US). 
10. STILL ON MY ISREAL TRAVEL BUCKET LIST
Okay, so the tenth location is actually a few destinations that I didn't get the chance to visit, and really wish I had. When I was in Israel, I received so many recommendations from people in comments and D.M.s on Instagram, that I felt compelled to share some of the more popular ones here. These beautiful locations in Israel were suggested over and over again. After a quick google image search, it wasn't hard to see why! 
Snake Path, Masada - Everyone suggested doing this one for sunrise. Unfortunately, that means before the cable car that takes people to this lookout during the day opens. But you know what they say, "nothing worth having comes easy." Plus, who doesn't love a 4am wake up call!

Coral Beach Nature Reserve, Eilat - The Red Sea is renowned for its diversity of marine life and world-class snorkeling/diving opportunities. And The Coral Beach Nature Reserve in Eilat is perhaps the easiest way to experience the underwater world in Israel.

Tel Aviv - Admittedly, I'm not much of a city person. But pretty much everyone told me Tel Aviv is an absolute can't miss! Apparently, it is the perfect combination of beach town, foodie heaven, and history. So I left Israel feeling seriously bummed that I didn't spend a few days eating my way through the streets. Next time for sure!
It's clear that there are a few things I would do differently, and a lot of things still left to see in Israel, so I hope life takes me back to that area of the world someday. Here's to hoping!