There are many aspects of development, civilization, and sophistication in Dubai, and Dubai is characterized by its possession of shopping centers and famous commercial malls, which make tourism in Dubai a wonderful opportunity that cannot be replaced.

Dubai malls offer all kinds of goods and famous international brands and contain hundreds of stores and stores that offer fashion, electronics, and other products, in addition to containing multiple entertainment facilities such as cinemas.
Well-known for luxury shopping, Dubai is the best place to get that designer dress, watch or bag from your shopping list! Being the largest city in the United Arab Emirates (UAE), you can safely say that shopping is their official sport. With 96 malls all over the city, you are spoilt for choices and you can shop till you drop! These shopping malls aren't just about purchasing the things you want, but they have indoor parks, playgrounds, and other attractions as well. Isn't that amazing? Read on to find out about the best shopping malls in Dubai, UAE.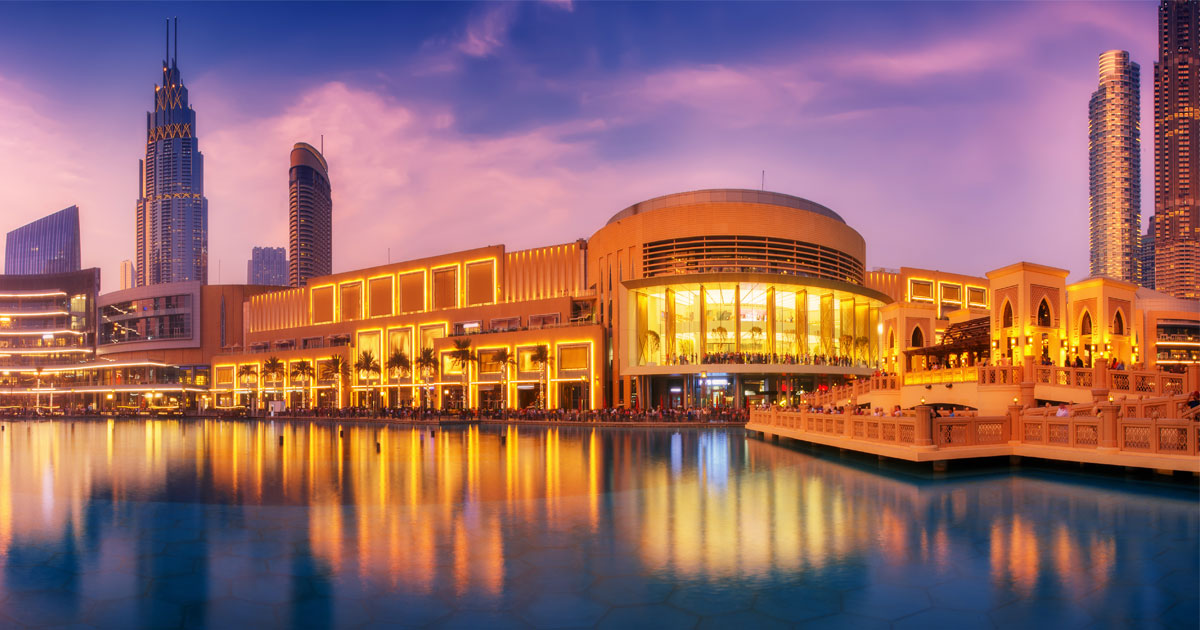 1. The Dubai Mall
The Dubai Mall is the world's largest shopping mall. Can you imagine how spoilt for choice you will be with the array of luxury brands and items available in the mall? In one building, you will get to find 1000-plus retailers from affordable brands to high-end fashion houses. There are department stores available here as well. Think about something and you can find it here in the Dubai Mall. Apart from these shops and designer boutiques, explore the "Dubai Aquarium & Underwater Zoo", which is also one of the largest and most beautiful aquariums in the world. Whatever you get or do, its big here!
Address: Financial Center Rd - Dubai - United Arab Emirates

Opening Hours: Monday to Sunday: 10 am - 12 am 
 
2. Mall of Emirates
As luxurious as the mall looks, it is home to several brands as well. Besides those, check the department stores like Harvey Nichols, Marks & Spencer and Debenhams. Satisfy your shopping needs and your appetite as well by checking out the hipster cafe - Common Grounds and Dubai's favourite dumpling house Din Tai Fung. This mall also comprises the Ski Dubai slopes. So, if you are a ski-lover, you know where to go. Additionally, there is a Magic Planet indoor entertainment centre for kids so do not miss this one! If none of this interests you, why not catch a movie at the VOX Cinema?
Address: Sheikh Zayed Road, Interchange 4, Al Barsha

Opening Hours: Sunday to Wednesday: 10 am - 10pm, Thursday & Friday: 10am - 12pm 
---
3. Ibn Battuta Mall
Every mall in Dubai seems to have a unique USP. This mall - Ibn Battuta Mall, is the world's largest themed mall. Reason being, it has drawn design inspirations from a wide variety of countries like Andalusia, Tunisia, Egypt, Persia, India and China. These are countries that an explorer in Dubai travelled to and hence the mall is named after him. The high ceilings and a fusion of interiors will give you luxurious vibes when you enter this mall. Isn't that interesting? Explore the fashion, lifestyle and sports shops here as well as the possible promotion booths and celebrations you may experience.
Address: Sheikh Zayed Rd - Dubai - United Arab Emirates

Opening Hours: Sunday to Wednesday: 10 am - 10 pm, Thursday to Saturday: 10 am to 12 pm 
---
4. BurJuman
BurJaman is known as an affordable mall as opposed to others where the focus is more on the high-end side. However, the variety isn't jeopardised at all. They have a wide variety of leading retailers and common global brands that you can find in shopping centres of your own cities as well such as Forever 21, H&M and more. Explore the eateries in the mall as well where you have a good mix of options. Check out the State-of-the-art cinema too for a different experience.
Address: Khalid Bin Al Waleed Rd - Dubai - United Arab Emirates

Opening Hours: Saturday to Wednesday: 10 am - 10 pm, Thursday & Friday: 10 am - 11pm 
---
5. Dubai Outlet Mall 
If you have outstanding bargaining skills, do not miss visiting this mall when you come to Dubai. Despite having designer labels like Burberry and Marc Jacobs, they have an ongoing sale all year-round. So, do not miss your chance of getting your favourite branded items at a lower price. Apart from shopping, be enthralled by the various shows they may have at their atrium. A tip for this mall would be to visit it on a Monday for and be rewarded with discounts up to 50% at selected stores!
Address: Dubai Al-Ain Road (Route 66)، Dubai Land - Dubai - United Arab Emirates

Opening Hours: Saturday to Wednesday: 10 am - 10 pm, Thursday & Friday: 10 am - 12am 

 
6. WAFI Mall
The architecture of this mall is stunning, inspired by Ancient Egyptian Architecture. Don't be surprised if you feel like you are in the movie "The Mummy" as you see the interiors and pillars around the shopping mall. Expect a sale or a show happening at the huge atrium of this mall. This mall comprises a large number of Middle Eastern fashion boutiques that you might want to explore, such as; kandoras, burqas and abayas.
Address: Oud Metha Rd - Dubai - United Arab Emirates

Opening Hours: Saturday to Wednesday: 10 am - 10 pm, Thursday & Friday: 10 am - 12am 
---
7. Deira City Centre 
This is a grand and minimalistic mall with a classy outlook. Head over to Deira City Centre together with your family and shop all you want. From common stores like Zara, H&M and Forever 21 to stores that cater to children like Mothercare and KIDZ at Iconic, this mall provides a complete package for family shoppers. Additionally, visit the Carrefour supermarket among these stores as well as an entertainment centre and food courts!
Address: 8th St - Dubai - United Arab Emirates

Opening Hours: Saturday to Wednesday: 10 am - 10 pm, Thursday & Friday: 10 am - 12am
---
8. Al Ghurair Centre
Al Ghurair Centre is known as the first modern shopping mall project in the Middle East. It grew to become a benchmark retail mall as the years went by. In 2013, it expanded with the addition of over a hundred new stores and has a well-acclaimed family recreation centre as well as popular dining places. This centre isn't solely just for shopping although you can do loads of it here, it also has a good mix of dining and entertainment services. Head to this must-see mall in Dubai!
Address: Al Rigga Rd - Dubai - United Arab Emirates

Opening Hours: Sunday to Wednesday: 10 am to 10 pm, Thursday to Saturday: 10 am - 12 am 
---
9. Dubai Marina Mall
As breathtaking as the exteriors of this mall, the interiors and what it has to offer is no less. Located on the shores of the Marina, the Dubai Marina Mall has a variety of high-end-fashion labels and beauty services. Be spoilt for choices to fill your tummies because this mall offers you an outdoor alfresco seating along the water's edge as well as seven exciting dining concepts with breezy atmospheres. This option is for those laid-back shoppers who would love a relaxing shopping experience.
Opening Hours: Sunday to Wednesday: 10 am - 10 pm, Thursday to Saturday: 10 am - 12 am

Address: Sheikh Zayed Rd - إمارة دبيّ - United Arab Emirates 
10. Dubai Festival City Mall  
Home to 400 stores (including a huge IKEA store), the Dubai Festival City Mall is enormous. The mall looks extremely grand and bright and is perfect to uplift up your shopping experience. Apart from the branded stores, explore the HyperPanda supermarket and ACE Hardware shops as well. It's a great sight to look at this mall from a vantage point when they happen to conduct festivals or events. Check out the charming Canal Walk as well when you visit this mall.
Address: Crescent Rd - Dubai - United Arab Emirates

Opening Hours: Sunday to Wednesday: 10 am - 1 am, Thursday to Saturday: 10 am - 1 am 
---
11. Mercato Shopping Mall
Located on Jumeirah Beach Road, Mercato Shopping Mall is another go-to place locals and travelers alike plague to on weekends. Similar to other malls in Dubai, there are various establishments for everyone to come shop in, from high-end fashion retailers for women to a series of restaurants, antique shops, grocery stores, and other international lifestyle and fashion brands. Some of the best places to check out and most frequented include Spinney's supermarket, Vox Cinemas, Virgin Megastore, and Fun City among over 140 stores. Enjoy strolling through the naturally lit Mercato Shopping Mall and spend a lovely Sunday indoors seeing the best of Dubai's entertainment and musings.
Address: Jumeirah Beach Rd - Dubai - United Arab Emirates

Opening hours: 10:00 AM to 11:00 PM, Sundays to Wednesdays, 10:00 AM to 12:00 AM, Thursdays to Saturdays 
---
12. City Walk Jumeirah
Enjoy a Sunday stroll around City Walk with bright lights showering through the mall's glass ceiling. The City Walk at Jumeirah is another hub many people in Dubai enjoy visiting. It's home to several recreational centers, shops, artisanal stores, restaurants, cinemas, and other outdoor museums for those keen on doing something besides shopping. Some of the other unique and popular things to see in City Walk include the stunning street art, events at the Coca-Cola Arena, or catch a movie at Roxy Cinema. Indeed, the City Walk Mall is a family-friendly place, a little bit of something for everyone's liking.
Address: 39 Al Safa Street, 3km from Jumeirah, Dubai, UAE

Contact: +971 800 637227  
Shop till you drop
It's Christmas every day in all the Dubai Malls. If you are done shopping in your own city, have a different experience at the malls here in Dubai. After all, the city is well-known for shopping as it is its national sport. So, what are you waiting for? Visit these malls and strike them off your Dubai bucket list!