Istanbul is a city that wears its cultures and history well, blending them into an exciting city that has much to offer travelers from around the world. Founded during Neolithic times, Istanbul today is a modern city that remains true to its historic heritage through its mosques, basilicas and cathedrals, and ancient bazaars.
In a city like Istanbul with a population of over 14 million people, it can be daunting to figure out how best to spend your time. It is important to get the right balance between sightseeing and uncovering a city's cultural offerings and activities. This guide introduces Istanbul's most important attractions so you can pick and choose the ones that most appeal to you. That way there is plenty time left to discover other highlights, such as dining at restaurants, cafés and bars, meeting the locals and absorbing yourself in Turkish culture.
1. Hagia Sophia
Built in 532-7AD, Hagia Sophia, was the world's largest Orthodox Cathedral until 1520. It has served as a church for over 900 years and an imperial mosque for over 400 years. In 1935, it was converted into a museum by Ataturk, the first President ofTurkey, and remains an important symbol for both Muslims and Christians. Magnificent mosaics decorate the roof and walls, including the famous seraphim, a six-winged angel, and the Deesis mosaic. A visit here will uncover Viking runic graffiti, a wishing column, five tombs belonging to Ottoman Sultans, and the tomb of Queen Sofia. Look out for Gli, the friendly resident cat who loves cuddles from visitors.
2. Topkapi Palace
Topkapi Palace is Turkey's largest palace and was the primary residence of the Ottoman Sultans. During the empire, over 4000 sultans and military dignitaries resided here with their families. Within the walls are many sacred Islamic relics on display, extensive exhibitions and a museum. Until June 15, you can learn all about this nation's love for coffee at their current exhibition, "A drop of Pleasure: 500 years of Turkish Coffee".
3. Blue Mosque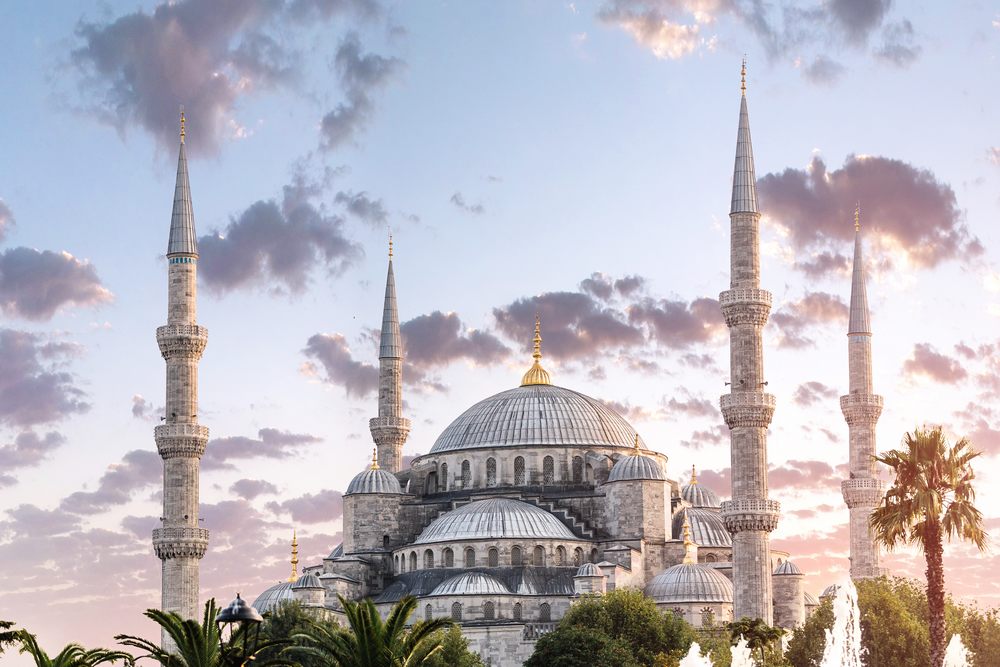 The Sultan Ahmed Mosque is more popularly known as the Blue Mosque, its name deriving from the vibrant blue tiles that decorate the interior walls. Building began on this grand structure in the early 17th century, under the rule of Ahmed. Today, the mosque is both a place of worship and a popular tourist attraction meaning rules and specific visiting times apply.
4. Obelisk of Theodosius and Serpent Column
Near the Blue Mosque are two ancient columns standing side by side at the Hippodrome of Constantinople. The Serpentine Column is an ancient bronze statue, part of a Greek sacrificial tripod. The ancient Egyptian Obelisk is the city's oldest monument and reaches over 25 meters high.
5. Basilica Cistern
Step into the Basilica Cistern, also known as the Sunken Palace, and be mesmerized at the scale of this underground world lying beneath Istanbul. Located close to Hagia Sophia, the entrance is very narrow. Once inside, the chambers open up to high ceilings and over 300 ornate pillars. Visitors are drawn to two Medusa heads and the mystery around their significance in the cistern. You will also find wishing pools and fish down here.
6. Maiden's Tower
The Maiden's Tower, or Leander's Tower, is one of the city's most important symbols. Historically, this was a functioning lighthouse and control tower. Today, it is a popular place to visit and enjoy 360⁰ views of the city and surrounding areas.
7. Cemberlitas and Cagaloglu Hammams
Experiencing a Turkish bath is an essential part of visiting Turkey. Cemberlitas Bath and Cagaloglu Hammam are renowned as two of the best in the country, located in the Old Town. Choose from various bathing options and treatment packages and discover the healing powers of these ancient hammams.
8. Grand Bazaar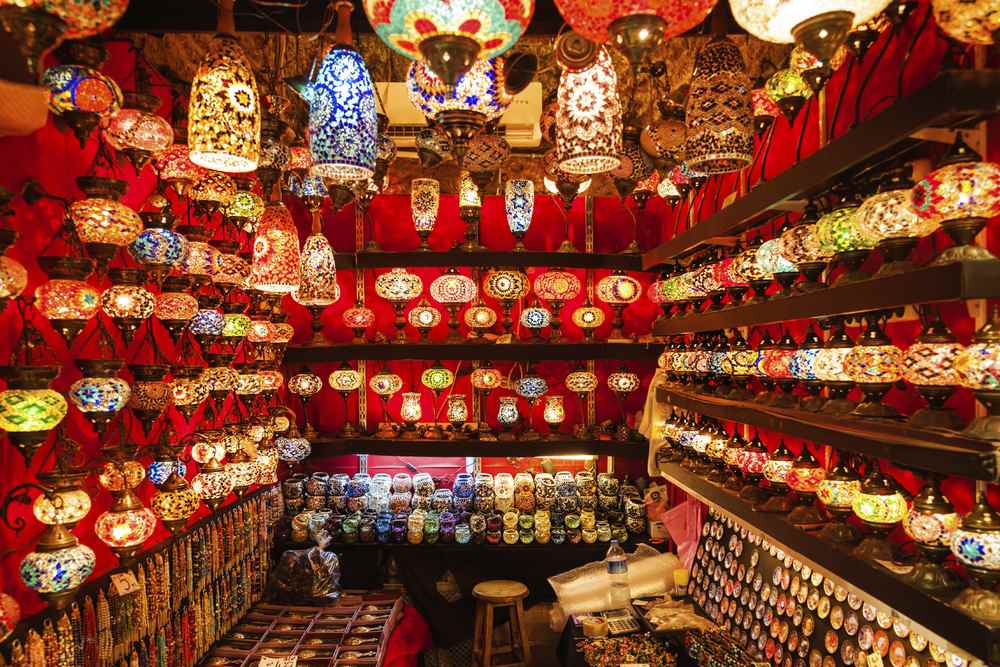 The Grand Bazaar must be seen with your own eyes. It is one of the oldest covered markets, and indeed one of the largest markets in the world. Steeped in history, over 60 narrow streets offer more than 5,000 shops, hammams, a mosque, as well as cafés and restaurants. Inside you can sample local produce and purchase furniture, antiques, old coins, jewelry, ornaments, watches, textiles and much more. This incredible market attracts between 250,000 and 400,000 visitors.
9. Dolmabahce Palace
Built in the 19th century, Dolmabahce Palace is a symbol of the modern age of the Ottoman Empire, designed in contemporary European style. It is the largest palace in Turkey and contains 285 rooms, 46 halls, and hammams as well as a Harem.
10. Galata Tower
Thought to be one of the oldest in Istanbul, the medieval Galata Tower is one of the dominating features of the Galata skyline. It is thought that in the 17th century an early aviator, Hezarfen Ahmet Celebi, made a flight using artificial gliding wings from here over the Bosphorus, an impressive journey of nearly six kilometers. Climb to the observation deck (51 meters) to absorb 360⁰ panoramic views and imagine how that flight would have been.
Park Inn by Radisson Istanbul Atasehir is located only 10 km away from the city center, in the vibrant Atasehir district. If you prefer easy airport access, the Park Inn by Radisson Istanbul Ataturk Airport offers stylish accommodation near the airport with excellent transport links to the city. We would love to welcome you at Park Inn by Radisson Odayeri. Purchase an Istanbul Tourist Pass for discounted entrance to various attractions, as well as great deals on cruises, dining and public transport. The Big Bus Sightseeing offers a Hop-on, Hop-off bus service and other city tours, making navigating the city's attractions simple.